Welcome to the Rebelde Wiki!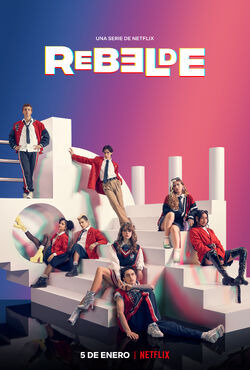 Rebelde
is a eight-episode drama musical television series that follows a group of students who are doing their best to win EWS' Battle of the Bands, the key musical contest for them to succeed at the beginning of their musical careers. Along the way, love and friendship bloom between them while a mysterious secret society casts a shadow over their dreams of becoming the next big music star.
Under the direction of Santiago Limón and Yibran Asaud, the series is a reboot of the beloved teen soap opera that spawned separate telenovelas in Argentina and Mexico in the early 2000s. It features Azul Guaita in the lead, alongside Sergio Mayer Mori and Andrea Chaparro, Jeronimo Cantillo, Franco Masini, Lizeth Selene, Alejandro Puente, Giovanna Grigio, Estefanía Villarreal and a few familiar ones that longtime fans will recognize.
Rebelde was released on January 5, 2022 on Netflix.

Rebelde Wiki is an encyclopedic database, created and maintained by fans for fans, dedicated to providing our visitors with detailed information on all the different aspects of the Netflix drama musical series Rebelde, including episodes, characters, locations, and much more. This is a fan-made site, and therefore any visitor is free to edit and add any information they have about the series to these wiki pages.
Come have a chat with us about the show in our
Discussions
, or even
sign up for an account
and help to
expand
our ever-growing database of content!
Need help building out this community?
You can also be part of the larger Fandom family of communities. Visit Fandom's Community Central!